Friday, October 18, 2013
Wednesday, September 25, 2013
Wednesday, September 4, 2013
Tuesday, August 20, 2013
Wednesday, August 14, 2013
Saturday, July 20, 2013
Saturday, July 6, 2013
Wednesday, July 3, 2013
1. Does the image show only part(s) of a sexualized person's body?

BMW

2. Does the image present a sexualized person as a stand-in for an object?


Four Loko

3. Does the image show sexualized persons as interchangeable? 

Mercedes Benz

4. Does the image affirm the idea of violating the bodily integrity of a sexualized person who can't consent?

Duncan Quinn

5. Does the image suggest that sexual availability is the defining characteristic of the person? 

6. Does the image show a sexualized person as a commodity that can be bought and sold?

Not sure if I've reblogged this before but it's worth it if I have because so many people get this wrong.

what the actual fuck are these ads 

This is rape culture at work.
What's sad is that none of these images are uncommon or even all that surprising.
Saturday, June 29, 2013
More
Anonymous prompted: Mermaid-verse: He plays with the fins on her hips, not realizing it's an erogenous zone for her.

Dreams-love-magic prompted: Renard has a bit of a mental crisis because he is in love with a mermaid, and how does that even /work/?

annnd Ripper just wanted smut. So here you guys go. :D I guess I should mention this is E and NSFW and all that good stuff.


———————————————————-


Renard's kissing skills were improving. He hadn't realized how awful they'd gotten until they started to get better, and he remembered all of his tricks, his methods for not scaring off his lover with his over-eager lips and tongue.

And it was only then that he realized that Belle was also a good kisser. It wasn't just that he was madly in love with her and her lips on his drove him crazy, it was that she had technique—serious technique—and she probably could have driven him to his knees even if he hadn't been in love.
What's this?
Is that mermaid porn I see?
DKLFAAKDSFLK;AFDSLKJFDJKFAD;SKJDFSFASDJ;
HOW DO YOU MAKE THAT SO HOT THEY DON'T EVEN HAVE MATCHING PARTS
I JUST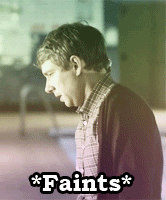 Wednesday, June 26, 2013
Monday, June 24, 2013
Saturday, June 1, 2013
Finger Food
Prompt: Belle, on the table, wearing nothing but "dinner". (I made it a counter, I hope you don't mind xD)

Dialogue:

"Smells delicious, what did you ma…."
"This gives a whole new meaning to finger food."
"I hope you saved room for dessert."

For: wayamy27narf

Hope you like it! <3333

——————————————————————-


It could happen to anyone. Belle repeated this to herself over and over as she filled the sink with water, checking to make sure it wasn't too hot. Anyone could have forgotten that she was cooking a time-sensitive soufflé because she had started reading her book. It wasn't unheard of for people to leave ovens on and go do other things, especially if they were using a timer—which Belle was.
Brilliant. <3