Sunday, May 19, 2013
Saturday, May 18, 2013
normanee prompted: Beth/Cullen soft kisses
She was a mage. She was a mage, and he should definitely not be doing this, should not be peppering her throat with soft, needy kisses or clutching her to him, fisting handfuls of her robe against her back.
"Knight Commander," Bethany whispered, and the title sent a wave of guilt through Cullen, but then she was pressing her sweet lips against his, nipping at them urgently, and there was no more room for thought.
Tuesday, May 14, 2013
Saturday, May 11, 2013
orlesian grey wardens:

shows up to blight 15 minutes late with starbucks
Tuesday, May 7, 2013
Sunday, May 5, 2013
so two good things happened to me today.
One: I went to get my eyebrows done, and usually when I tell them to MAKE THEM THIN they don't listen to me and leave them still really thick because they're afraid to take too much off, and then when I say "no, thinner!" they refuse to take more off because my skin might come off if they wax it again or something. D: But today SHE LISTENED AND MY EYEBROWS ARE SO THIN AND I'M SO HAPPY ABOUT IT <3
Two: I started a Dragon Age 2 playthrough on the computer because I've only played it on console so far and my Hawke is going to be an aggressive fem!Hawke whose only soft spot is Merrill, whom she will romance of course (because it's about time I did Merrill's romance!!!) and it's going to be utterly adorable.
Otherwise it was a very emotionally draining day, but I am seeing the positive in the little things, and the other stuff will sort itself out I'm sure.
Friday, May 3, 2013
Monday, April 29, 2013
Sunday, April 28, 2013
Wednesday, April 24, 2013
I got the nicest email from my Li'l Bro today and HE SENT ME UPDATED SERENDIPITY FIC AF;SJD;AJKSFDKFJ;SD;AGJA;S;KSDF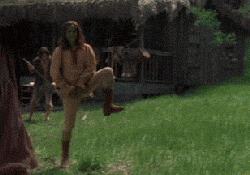 Sunday, April 21, 2013